Express Rush Labels | Stock & Custom Shipping Labels | Laser Labels - Products & Fromats | Preprinted & Custom Sales & Office labels | Four-Color Process Labels | Roll Labels | Label Numbering & Variable Imaging | Special Label Paper & Materials | Thermal Imaging Labels | Combination Form/Labels | Label Mailers | Special Die-Cut Labels | Custom Label Capabilities | Label Materials, Papers & Stocks | Standard Label Inks for Custom Products
Combination Form-Label Products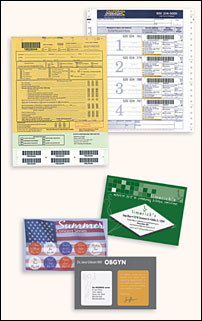 Form/label combinations merge multiple tasks into one form providing cost savings, convenience, simplicity and efficiency.

Form/label combination products are ideal for many industries such as medical, shipping, transportation, pharmaceutical, inventory and many others that utilize both forms and labels to perform daily business functions.

We specialize in both integrated labels and form/label combinations available in continuous, unit sets, and cut sheet formats. A variety of paper weights ranging from 24# bond to 125# tag and a selection of special adhesives are available for you to customize your product. Special die cuts are available for specific applications. Up to 6 color printing is available.