Express Rush Labels | Stock & Custom Shipping Labels | Laser Labels - Products & Fromats | Preprinted & Custom Sales & Office labels | Four-Color Process Labels | Roll Labels | Label Numbering & Variable Imaging | Special Label Paper & Materials | Thermal Imaging Labels | Combination Form/Labels | Label Mailers | Special Die-Cut Labels | Custom Label Capabilities | Label Materials, Papers & Stocks | Standard Label Inks for Custom Products

Thermal Imaging Labels
Direct Thermal - Thermal Transfer Labels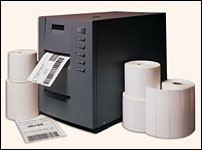 Don't be fooled by claims that all label and ribbon materials are the same. We supply only premium quality Direct Thermal and Thermal Transfer Labels that will not cause premature wear on your print heads or fill your printer cabinet with dust that can create critical voids in printing.
Our label rolls are consistent in dimension and printability and have perforations between each label for easy separation. Three inch cores, eight inch OD and wound out are standard. For Thermal Transfer printing, we offer Sony Brand ribbons. Every Sony product has been engineered to meet a wide range of applications and tested for optimum performance with all types of paper, film media, and printer modes. Sony Thermal Transfer Ribbons are available in several variations including General Purpose, Premium, Specialty and Near Edge.
Our Thermal Imaging products come as labels only, ribbons only, or for your convenience we will customize a program in which matched ribbon and label roll lengths can be packaged together. Call us today and we will help you design a label perfect for your business needs.